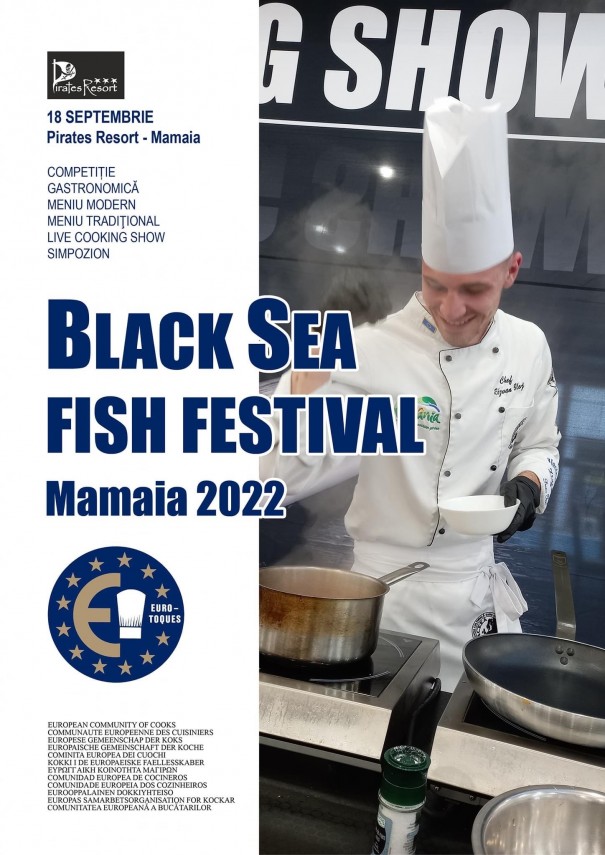 From 17th to 18th September 2022, Pirates Resort Mamaia will host the 7th Annual Black Sea Fish Festival. The festival is attended by professional chefs, horeka experts, fish industry experts, fishermen and traders from the Black Sea, the Danube and the Danube Delta. Cookware, Utensils, Gastro Apparatus, Student of State Education – Junior Chef, Future Professional in the Romanian Hospitality Industry.

PIRATES RESORT was the ideal choice to host this event. Thanks to the promise of "Oasis", both in terms of the position occupied and the fairy tale setting it emanates, it is very suitable for young participants as well as the elderly. A playfulness and hope, a good mood guaranteed by a tight-knit group, a side you feel the moment you enter the 'territory' of a settlement that carries the 'taste' of characters from stories from a forgotten age. But what else does tourism mean, if not a transition to a dimension of relaxation of mind and body through top-quality service? Bedding and some culinary tastes happen in the blink of an eye, thanks to a small 'army' of professionals assembled to ensure the well-being of those who come to this fairytale land.

organization eurotalk romania with the support of Euro-East Alternative Cuisine Association Project started in 2015 cookinga unique national training program for students of special state education, to help teachers reinforce the professionalism they must instill in the future new generation of professionals in the gastronomy and tourism sector.

This year, professional competitions for young people will be held during the Black Sea Fish Festival with the support of the Romanian Government's Sustainable Development Agency. It brings together over 50 students, accompanied by teachers and trainers, to compete in the upcoming races. Black Sea Grand Trophy. Under the creative influence of the slogan "Power of the Blue Storm", our juniors strive to excel by cooking only animal species that inhabit the Danube, the Danube Delta and the Black Sea.

In addition to this culinary exhibition, the festival will also host the following events:
open seminar
Smoked fish and direct fire cooking with a smoker.
Smoker's smoking technique.
Color and flavor characteristics in smoked fish.
heat smoking process.
Smoking times and stages.
Cookware: Pit Boss Pro Series 1600 Wood
Grill & Smoker Pellets.
Presenters: Radu Zarnescu, Florian Mikhail Zeka.


X-Oven Live Demo
Live demonstration in a modern professional enclosed grill with drawers and protected hearth. Demonstrates limited solid fuel consumption VS maximum baking and roasting performance. EMEDEZ presents his HoReCa equipment.


smoke fish in a barrel
Indirect fish smoking in the Pit Boss Barrel Champion with diaphragm baffle, built-in firebox with direct external access. Introducing: The latest generation smoke barrel built by Pit Boss Americans. Demonstration recipe: Whole eviscerated fish, fillet, fillet.


Live Demo Tandyr Expert – Sturgeon Soup Stock
It is a kettle type container that can be used for pressure cooking.
Classic soup preparation from soupy heads, tails and sturgeon bones and simple cooking in a belly and lidded pan with steam pressure vents. Contributors: Vadim Macovenco, Tandyr Expert, Chef Radu Zărnescu.


Pit Boss Ultimate Griddle Liftoff
Stovetop with ceramic enamel protection and lid for seafood. The most successful non-stick solution for special steel hobs combined with the baking effect of the lift-off lid. Recipe: Lapin pasta with garlic sauce.
Contributed by Executive Chef Gabriel Sighinash.


Catfish fillet grilled on a cedar board!
Fatty fish can be cooked well and easily in a cedar plank smoker.A very good example can be seen in the demonstration of my colleague Bogdan Bogas, founder of the "Men in the Kitchen" group, cooking in a Smoker Combo Pit Boss Navigator with a dual baking system.
It is typical of gourmet chefs on the North American continent, and the fish used are from the Danube Delta.


Cherry tomatoes, sweet onions, cranberries with green chilies in a tandoor!
The tandoor is one of the oldest ovens on earth and originates from the Far East. He is the twin brother of the famous Kamado, originally from the Land of the Rising Sun. The latest version of the tandoor and the method of quick cooking in it will be presented by his Vadim Macovenco, one of the most experienced specialists and traders of such devices.


One-sided grilled pumpkin with vegetables!
With the help of the Pit Boss Ultimate Griddle Lift-Off 5 Burner, you can cook Black Sea Turbot hassle-free! Positioned in the center, with vegetables around it, and a lift-off smoking system, the bell is
No flipping and fully cooked within 30 minutes. The solution launched by the Pit Boss brand helps people who have time to socialize while cooking, in moments of celebration, without paying too much attention to the ongoing heat process.


Marinated Rufale pizza!
The seafood pizza is made with 7-spice Romanian Castellana flour kneaded and aged, and the Black Sea rufal fish is marinated raw in an emulsion of olive oil, apple cider vinegar and lemon juice, which is the best for you. Gives you a sense of smell and taste! After several tests initiated in 2019, at the start of the Sibiu European Gastronomic Region program at Bâlea Lac Cottage, it was concluded that raw marinades using the aforementioned emulsions provided the best results. At the time we were working on trout from the Fagarash Mountains, but now he tests one of the most aromatic fish species.
Black Sea, Lufarul. Served by pizza chef Iulian Dumitrescu.


Sega stuffing cooked on an indirect heat grill.
Sega, a relative of the sturgeon, is a sensation, stuffed with asparagus, spinach and green garlic and cooked over an open flame on a Monolith Kamado ceramic grill. The German technology from Monolith Kamado comes with a special set of accessories for indirect cooking. This is a much more practical way to keep the material liquid during the heating process and protect it from the forces of hot embers. Demonstration by Razvan Breushev and Sergiana Brasov.


Exotic seafood pizza!
Seafood (mussels, mussels,
Lapan, anchovies…) 7 Spices – Castellana Flour – Made in Romania We partner with you to create several exotic pizza recipes that complement our standardized menu. One of his foremost specialists in the field and a multiple medalist in professional competitions, Milchato de las is known not only for the taste, but also for the visual presentation of the world-established southern Italian archaic food assortment. It entertains us in every way.



seven spokesRomanian brands, producers of Castellana flour types – Verde, Rossa, Blue – They are recognized for their quality and manufacturing rigor. Desire for continuous innovation, led to modernizebad tdrink oftime 4 SEVEN SPIKE mills with state-of-the-art technology, This gives you better control over quality parametersthe best option to create some A dough suitable for pizza preparation that is impressive from a taste point of view, if not better than other doughs made from consecrated flour from another source!


Carp stuffed with tofu and parsley!
Sabin Ghemeş, deputy mayor of Câmpia Turzii, whose famous recipe won pole position at the Fish Festival at Complexul 3 Lacuri in 2017, this time using Smoker Pro Series 1600 wood pellets with Danube carp. It is cooked using In 2019, he asked Szaby Lengyel, the only Romanian to participate in the Jack Daniel's World Grill Competition held in Tennessee, USA, to grill and smoke. Recipes fit the world Michelin 3-star restaurant The Fat Duck, a food pairing trend launched by London master Heston Blumenthal.


fine dining session

Our nationally and internationally recognized colleagues Dragosh Babi, David Ioan, Adrian Lucien Sipoteanu, Adrian Torsha, Alexandre Sbank and Marian Popovic know that local products are a luxury It shows us what we can interpret like a restaurant. Audience.


fish live cooking show

Dora Dobay, Cristian Nica, Cristian Olteanu, Ionela Olteanu and Gabriel Valentin, members of the Euro East Alternative Culinary Association, cook fish the traditional way and offer a modern vision.


The external guests of this edition from Turkey, Slovakia, Italy, Macedonia and Serbia delight us with local products interpreted in a variety of contemporary approaches, promoting a dialogue between cultures, valences, tertiary so that the proposed space of the culture is created. Cross-cultural, global cuisine differences and similarities.